Sexual Safety Is About More Than Just Sex
Whether we know survivors or not, it's imperative we actively create environments of sexual safety both for ourselves and for others.
Photo: Margret Flatley
Trigger Warning: Though nothing explicit is referenced in this article, there are mentions light mentions of sexual assault and conversations surrouding topics of consent that are talked about.
Conversations about sex are constantly changing, but the topic of sexual saftey is one we need to keep talking about. You might not think the way you go about your day is connected to the larger conversation of sex, but from our subconscious biases, to our mental health, to our everyday speech, everything finds away to impact our role in this cause (be it promoting safety, or being part of the problem).
Though S.A survivors are standing up against the injustice and lack of accountability the world has shown them, it's our duty as people to do better, and that doesn't just mean joining marches and donating (which you should absolutely still do).
So for S.A survivors, and those of us seeking to change, here are seven things you must remember, so we can actively make sex safer for ourselves, and for others.
1. You need to train yourself to say "No".
This isn't as simple as so many people try making it out to be, specifically because saying "No" is a muscle. What do I mean by that? I mean saying "No" is something many people aren't used to doing, not just in regards to sex, but in regards to so many day-to-day things. Maybe it's not being able to say "No" to hanging out with your friends when you seriously need a mental health break, or maybe it's letting someone talk you into picking up their shift when you don't need to. These might seem unrelated but I promise you, they're not. Like I said, "No" is a muscle. If we don't practice saying "No" with our daily boundaries, it can be that much harder to say it if you're ever in a position of uncomfort or unwillingness to have sex.
You need to get your brain accustomed to seeing "No" as an option you always have.
It doesn't matter if you're fully clothed, bare naked, or mid way through having sex. "No" is your greatest weapon, train yourself to use it.
However, not everyone is used to their "No's", and there are many who still struggle to say it even with practice. Sometimes it gets swept under the rug, but if you're a guy, know that this rule applies to you as well. It's your partner's job to also check in on how you're doing, and it's okay to say no if you're uncomfortable with something. If you are a survivor, know that the absence of your vocalized "No" does not, in any way, invalidate your experience. There is never a situation where it's solely on you to say "No", it's on them as well, hence my next point.
2. You need to show people their "No's" are respected.
Like training yourself to say "No", this is also rooted in our daily lives. You need to make sure you're actively (emphasis on the actively) used to showing people you respect their "No's" and be smart enough to say it for them if you sense them struggling. Seems easy enough right?
Wrong.
For a majority of us, we wait until after the boundary has been breached to show them our true colors. Are we going to hold ourselves accountable, apologize, and do better? Or will we let our ego get the best of us and lash out in denial or anger? Either way, by that point, it's too late. You might be thinking, "It's up to them to tell us what's wrong, there's nothing I can do before then."
But that's where I tell you you're wrong again.
Part of this step is learning to be proactive. Get into a habit of asking people what they are or aren't okay with, even if you know the answer.
For example: if you're making plans with someone, try asking them a few hours beforehand if they're still down to go, and let them know that if they don't it's absolutely fine to reschedule or do something else.
Another example: Before the clothes even come off, ask them how they feel and if they want to continue. Even if it's a yes, ask them again before you go further and make the lines CLEAR: "Sex isn't more important that how you feel, so if you tell me to stop at any point we'll stop, no problem and no questions, and just watch a movie or something. Or if you want, we can call it a night and just talk about how you feel."
It's not just on them to give you consent, it's on you to not be an asshole and assume it. You're not as ignorant as you perceive yourself to be. Say "No" for them if you have to. Ladies, you are not exempt from this. It often gets lost in our conversations of sex, but if we're being proactive, we need to be inclusive as well. Practice asking your husbands or boyfriends for consent and stating the above.
If you have a healthy relationship with open communication, this might feel stupid, but what you may not realize is that moment is one step forward to creating and reinforcing a safe environment for them, S.A survivor or not.
Learn to ask them, and reask them if something is okay, or if you crossed a line, and show them that you respect their "No's". Remind them "No" is an option you won't ever give them shit for, so if/when you two decide to have sex, they'll be more comfortable saying it. Even if you aren't having sex, it's good to show others what a safe environment looks like (and maybe take the opportunity to just start up a longer conversation about it).
If someone tells you you've crossed a line, don't argue with them, don't make excuses, and don't try to downplay it. Keep your ego in check and take responsibility.
Read the room, if you don't think they're into it (sexual or not) boss up and say no for them.
It's better that nothing happens, than hurting someone with shaky consent.
3. Stop letting hate speech slide. Call out your boys. Call out your girls.
It's not just about calling out your homeboys and homegirls when the try making excuses for assaulters, or when they try gaslighting the stories of survivors, which you need to address regardless (and no it doesn't matter if it's the story of a celebrity, or of someone they know personally). It's also about things we let slide when we talk about people.
We need to stop allowing people to promote a culture where we blame survivors because we've convinced ourselves "our friend could never have done that". Spoiler Alert: it's not as impossible as you're trying to make it seem.
We need to stop disregarding the fact that assaulters can be men and women, and we need to stop invalidating the full spectrum of S.A survivors, because contrary to popular belief, it's an issue that spans women AND men AND non-binary folk. All voices should be heard, everyone needs to make a change.
We need to stop allowing people to criticize the way women, men, and non-binary folk dress because no, it is not in any way, shape, or form ever indicative of sexual consent.
We need to stop dehumanizing people by calling them slurs like, whore, slut, bitch, prude, faggot, and for godsakes stop calling women "females" if you're not coming from a medical point of view.
The list can go on, and we all know this is just the tip of the iceberg, so whatever it is, start calling them out. Not tomorrow, not later, put a stop to those conversations right then and there.
Don't underestimate the power a simple, "Dude, that's not cool," can have. Use it to further the conversation and hold your ground.
The change you make with one person does ripple. It might not be instantaneous but God is it effective when you'd least expect it.
4. The importance of trust and no judgement.
If someone is opening up to you it's your place to listen, show support, and nothing more.
You don't get to ask who it was, you don't get to ask if they said "No", you don't get to ask what they were wearing because none of that matters. Assault is assault it doesn't matter in what context.
Don't push for more information they don't want to give, and if you feel like you have to ask a question, ask if it's okay first, then preface it by telling them they don't need to answer (a tactic that I have taught people to use with me when I talk about my mental health, and one I use with others constantly). This is where creating an environment of practiced and respected "No's" really helps.
5. Your journey of survival and healing is yours.
If you are an S.A survivor no one can tell you how to heal and no one is allowed to expect you to just bounce back. Healing comes when YOU are ready, not when others are. Take your time and take steps towards healing when you feel safe and comfortable. Whether that means therapy, opening up to someone you trust, or connecting with other survivors, take things at your own pace.
Your mind is yours. Your decisions are yours. And your body is yours.
6. Healing isn't linear.
You might be in a consensual, healthy, and safe relationship but that doesn't mean you can't experience triggers or flashes of your trauma. It might set you a few steps back (or a lot) but that doesn't mean you're back to square one. Healing is a continuous process, don't be hard on yourself for "relapsing". You are human, so take your battles one step at a time.
Though the trauma is your own, YOU are not alone.
7. Do your part. Every. Single. Day.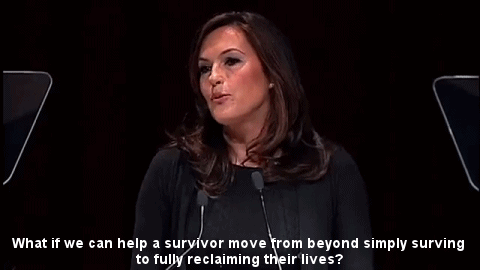 If you are not an S.A survivor, it is your responsibility to lend your voice as a source of advocation to make society better. It's our job to actively hold our brothers, fathers, friends, boyfriends, girlfriends, sisters, mothers, husbands, and wives ACCOUNTABLE for their actions and not make excuses for them. Sexual assault can come from anyone, not just "strangers". Just because you have a close or great relationship with someone doesn't mean you're exempt from doing any of these rules.
It's our job to teach our children better. Our job to actively educate ourselves, and others. And our job to continue to fight until our legal system matches these ordeals.
This. Step. Isn't. Optional.
If you're not fighting alongside them, you're fighting against them, and you are the problem.
**If you or someone you know has experienced sexual violence, and/or believe these may lead to thoughts or acts of suicide or self-harm, please contact one of the following.
National Sexual Assault Hotline: 1-800-656-4673
National Suicide Prevention Lifeline: 1-800-273-8255
Trevor Lifeline (for the LGBTQ+ community): 1-866-488-7386
Or 911 for emergencies.
All services are free, confidential, and offer 24/7 support.
It's time we stand up and make sex a safer place.
With determination to do better,
Draco Rose